We are passionate about providing a complete service
As a full-service agency, we can offer you all the services for your event or undertaking from a single supplier. We can handle all of your event – from A to Z, spanning the initial concept, planning, to the actual on-site running of the event if requested to do so. We are more than happy to deal with the complete research and booking of external service providers as well as undertaking the communication and organisational aspects, so that you only have to deal with one point of contact – us.
We can pull all the strings for you, starting with the requests for proposals, to commissioning the selected service providers – we can take over all the aspects of your planned event in close agreement with yourselves. And we are still there for you after the event: Checking the entire costs, soliciting and evaluating feedback, so that your event remains a positive memory for your participants for many years to come. Your personal point of contact will be there for you right from the word go and is, of course, also on hand for on-site management during the actual event.
We are never more than a stone's throw away for all aspects concerning the design of your upcoming event or the integration of your corporate design, and also have an exclusive network of experienced partners. We are not only happy to support your organisational team directly, but also to deliver an overall concept tailored to your corporate design and compliance guidelines. We are also happy to make sure that your design templates are up to date at all times.
Besides all classic marketing and communications tasks, we can easily modify and produce personalised consumables (e.g. name badges, place cards, room plans) at short notice.
Furthermore, we also boast extensive experience of adapting product brochures and event documents for an international audience (working in conjunction with professional language service providers).
Event and congress materials / event design
Engaging and comprehensive event material and congress documents also play a pivotal role in the events sector. It is not only essential to have a consistent identity and high-quality materials, but also to make them available at the venue on time and at short notice. Keeping this objective in mind, we support our clients across the entire value chain in terms of event materials.
This includes the following services:
Sending event materials (Europe-wide)
Storage of event materials and print templates
Event design

Modifying and producing Word templates
Producing country-specific delegate certificates following consultation with national medical councils (CME points)
Designing and producing customised event design products (areas, flags, signage systems, etc.) on the basis of the client's CI
Developing and producing large-format printed materials (e.g. transfers)
In-house production of printed materials (4C/4C to A3)

Order picking and packaging of printed materials
Coordinating printed materials in Germany (incl. on site)

Provision of logistics materials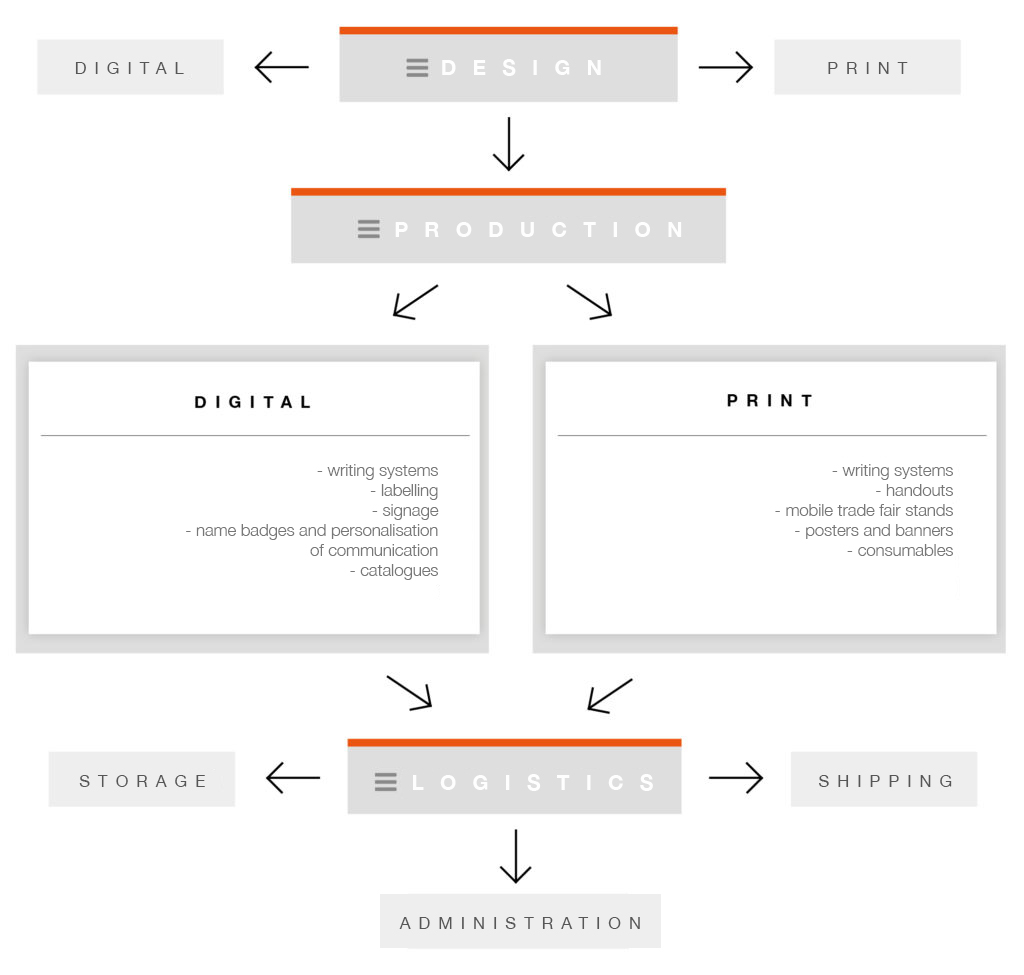 Where requested, we are more than happy to take care of preparing all the required materials directly from our office. Selection of suppliers and contract negotiations are carried out according to transparent quality and cost criteria.
We will also review the templates and look after production-related project coordination and quality assurance (on site if requested).
We are able to draw on a vast network of reliable service providers (e.g. printers, post-press services, textiles, trade fair systems, consumables and much, much more). We generally procure the items directly from the manufacturer, in order to achieve the best possible value for money.
On request, we will be delighted to provide you with a selection of our previous productions.
We guarantee the prompt availability of all event materials on the agreed date. We have been working with reliable logistics partners for many years; they, too, have specialised in the fields of medical technology and pharma, and are certified accordingly (e.g. DIN EN ISO 9001:2008/2015).
Generally speaking, we can deliver all event materials to all major European cities within 12–24 hours (overnight).
We also offer cost-effective storage of productions on our premises (chiefly for our clients in Switzerland). We guarantee optimum cost/risk minimisation thanks to duty-free shipping within the EU.
Briefing
Hotel research
On-site inspections
Restaurant selection and bookings
Verification of contracts
Audio-visual planning
Shuttle companies
Speaker invitations
Programme planning and registrations
Requesting learning objectives from participants who have registered for the upcoming event
Invoice management
Preparing an organisational schedule
Rooming list
List of transfers
List of delegates, seating plan
Briefing service providers (hotel, restaurant, audio-visual technicians, transfers)
Menus
Producing printed materials (in house and on site)
Certificates (w/ CME)
Logistics/customs
Erecting/dismantling convention rooms
Professional follow-up of your events
Evaluation of the event/undertaking and assessment/interpretation of the results
Drawing up and sending event documents
Finalising the list of delegates
Debriefing service providers
Final budget accounting, payment accounting
Reviewing the invoices submitted by all service providers
Budget/invoice accruals